Your Arctic Photography Adventure takes place during prime aurora viewing season which, also happens to correspond with the changing colours of the barrens (a unique feature in and of itself) and seasonal wildlife migrations.
Suitable for all levels of photographers, from aspiring to professional, this multi-day photography package will provide you with the opportunity to see the northern lights, look for Arctic wildlife (such as caribou, grizzly bears, wolves, wolverine etc.), migratory birds, and enhance your photography skills with the equipment you have.
There are only two dates available and limited capacity. Take advantage of this rare opportunity and reserve your space on this incredible adventure today.
Known as the best place in the world to view the aurora you will have seven nights of opportunity to photograph the northern lights. Ideally situated under the auroral oval, Yellowknife & Peterson's Point Lake Lodge (away from crowds and light pollution) provides the ideal setting for northern lights photography.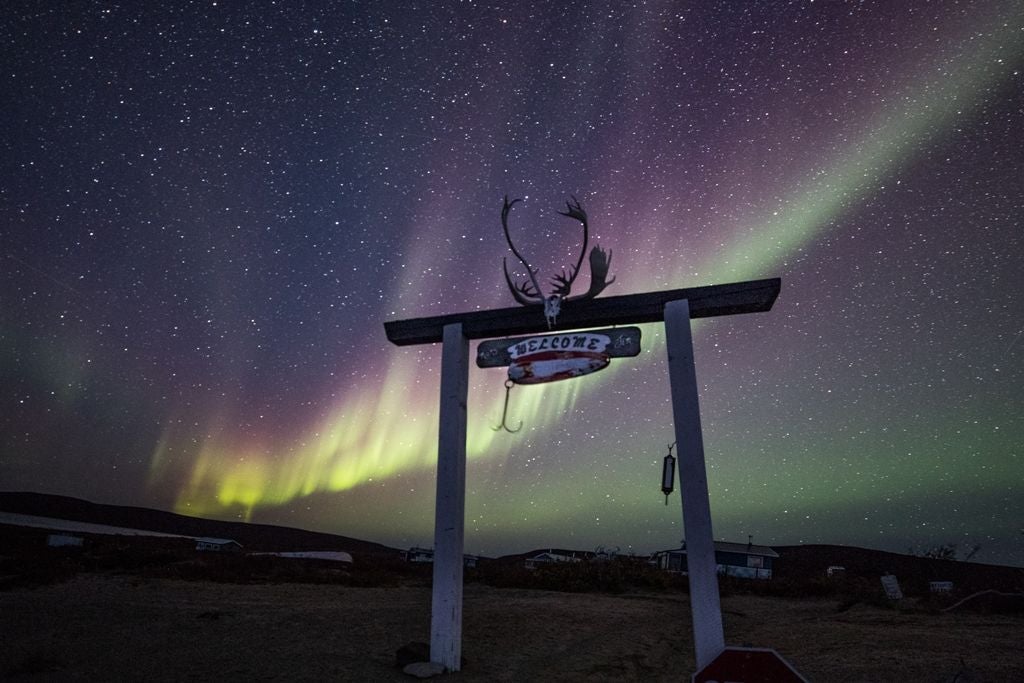 The sweeping landscapes and lakeside location – perfect for capturing reflections – in addition to, the sheer number of stars will enhance your night time photography experiences. Enjoy this uncrowded and beautiful setting to experiment with light painting, star-trails and time-lapse photography, or just sit back and enjoy the show.
Days at the lodge are dedicated in the field. You will explore the Arctic landscape, hiking and/or travelling by boat to scout for wildlife, and search out intricate macro compositions. Our professional guides, with years of spotting experience, will scout wildlife on daily group excursions with a focus on safety.
Upon your return from your full day excursions a freshly prepared meal awaits, where local ingredients are often incorporated into the menu. Check out our lodge page and independent website for more information on Peterson's Point Lake Lodge.
Workshop/Educational Focus
Your photo leader will offer advice to fit the ever-changing environment and weather conditions. Working within the group dynamic as well as one-on-one focus on individual photographic interests. Client photo review sessions are encouraged and are an informative part of the workshop activities. In addition to learning about the technical side of photography, and post-processing, time will also be spent on the creative and artistic side of photography in a casual positive manner. We will review controlling depth of field, reading the Histogram and camera settings. Depending on interest we may also cover HDR, panoramic stitching, light painting, star trails, using Grad and polarizing filters, and much more. Group participation is voluntary and guests who prefer more independent shooting are certainly welcome. If you want more assistance, your photo leader is there to guide and assist you in all things photographic. For more information on workshop topics that will be covered download the outline here.
2019 & 2020 DATES
Full Package (7 Night/8 Day)
August 27 – September 03 – photo leader Cheryl Stewart
September 01 – 08 – photo leader Cheryl Stewart
Price: $6,995.00 + 5% GST
Lodge Only (5 Night/6 Day)
August 29 – September 03 – photo leader Cheryl Stewart
September 03 – 08 – photo leader Cheryl Stewart
Price: $6,495.00 + 5% GST
Number of Participants
Small group size max of 12. Minimum: 6
Full Package Includes
– Two nights accommodations in Yellowknife
– Yellowknife City Tour
– Great Slave Lake Boating Tour/Ingraham Trail Tour
– Two nights aurora tours in Yellowknife
– Scenic return charter float plane flight to Peterson's Point Lake Lodge
– Five nights accommodation at Peterson's Point Lake Lodge
– Five nights of aurora viewing/photography
– Three delicious meals per day
– Professional photo leader Cheryl Stewart
– Guided Daily Excursions (including fishing option)
– Photographic tutorials & hands on instruction
– Image reviews, critiques and post processing in Lightroom
– Fun, creative and a AMAZING Time!
– Lodge Gear including: rubber boots & life jackets
– Personalized shuttle to and from the Yellowknife airport, hotel & float base
Package Exclusions
Taxes, meals in Yellowknife, fishing license, camera equipment and/or accessories, personal items, specialty beverages, travel insurance (trip cancellation insurance) emergency medical coverage, gratuities. Any expenses incurred due to delays caused by inclement weather, mechanical or other reasons beyond our control.
Rates
All rates are per person and based on double occupancy. Single guests can sign up to share a room with another person of the same gender at the regular rate. If a single guest prefers to have a private room option we have a single private room rate.
Deposits/Cancellation Policy
A deposit of $1,500.00 is required to confirm your reservation. Deposits are non-refundable, substitutes are allowed. Balance is due July 1st.
Peterson's Point Lake Lodge
Below photo credit: John Huyer – Huyer Perspectives Photography
Itinerary – 8 Days/ 7 Nights
This package includes: two nights in Yellowknife, followed by five nights at Peterson's Point Lake Lodge as well as round trip float plane flight between Yellowknife and our lodge.
DAY 1 – 2
Explore Yellowknife, the capital of the Northwest Territories and surrounding area with local experts where you will learn about the building of this gold mining town to the diamond capital it is today. You will also see local art and learn about the history and culture of the people that make this area unique. Enjoy a boating tour on Great Slave Lake and fish fry or guided hike on the Ingraham Trail. Evenings are designated to photographing the northern lights.
Day 3 – Arial flight & Arrival at Peterson's Point Lake Lodge.
Our Staff will pick you up to enjoy lakeside complimentary continental breakfast of fresh fruit, freshly baked bannock, preserves & celebratory beverage before your scenic float plane flight to Peterson's Point Lake Lodge. Upon your arrival, our team will provide an introduction and safety brief over lunch. After a guided tour of the lodge and getting settled into your assigned cabin there is time for a nearby hiking excursion.
Day 4 -7 – Photography/Hiking/Trekking the barrens/Wildlife
Guided and daily excursions in the field exploring and shooting the varying landscapes and wildlife – taking you to sand eskers where wolves den and have their pups, over rolling hills as depicted in Sir John Franklin's journals as he searched for the Northwest passage, and walkingthe deeply entrenched time honoured caribou paths. Integrated throughout the day and after supper, Cheryl will be helping you with your images as we get set up and await clear skies to erupt in colours of green, red and purple to capture the northern lights.
Day 8 – Departure return to Yellowknife
If you love wildlife, awe-inspiring night skies, breathtaking landscapes & want to enhance your photography skills, click the "Sign Me UP!" button now because this workshop will sell out fast.
---
Please Note
We recommended a overnight stay in Yellowknife the evening before and after.
This package is 100% weather dependent and adjustment to flights and daily activities may occur as a result of inclement weather and/or other uncontrollable factors.
Natural events such as aurora and wildlife sighting are beyond our control. Photographers are invited to come with this knowledge and the understanding that our lodge and package offerings is located in a vast land and as populations, migratory patterns and weather fluctuates the numbers and frequency of seeing animals can vary, factored in with length of stay. There will be nights that unfortunately we won't see the northern lights and days that wildlife may not be spotted. We'll do our best to set ourselves up for success and invite photographers to have an open mind and adaptability to take advantage of all photo opportunities, be it macro, landscape and other.
We highly recommend all guests ensure they have emergency medical coverage prior to visiting the lodge and have trip/travel insurance.
Please check with our office for availability prior to booking your flight to Yellowknife
---
"Our thanks to the Peterson family for such an amazing trip. If you go to Trip Advisor, you will see that their two outfits, My Backyard Tours and Peterson's Point Lake Lodge, they have the highest ratings possible on Trip Advisor. They are good. So so really good."
Elston & Jackie Hill